First things first: Black Panther is a kick-ass movie.
In fact, Black Panther is only the 4th movie in history to make more than $100 million in its second weekend, joining the ranks of Star Wars: The Force Awakens, Jurassic World, and The Avengers.
There are a lot of brilliant things about Black Panther; the casting, the acting, the villain, the message – the list goes on. But for me personally, what makes the movie so good is the fact that it unapologetically embraces its culture and serves as a positive representation for black people and women all over the world.
Speaking of, here are are few things I think Tamil movies can learn and apply from Black Panther:
You can have a male-hero AND a kick-ass heroine
Yes, Tamil movie directors, those two aren't mutually exclusive.
Take a look Naachiyaar. Strong female lead, no big hero. Take a look at any Vijay, Ajith, Vikram, Suriya movie, the heroine is almost always a damsel in distress. Why does it have to be either or?  Why can't we have both at the same time?
For example, Suriya is a ruthless police officer in Singam. He could have had Anushka as his side-kick – instead of just a love interest hovering about – and they could have been a power couple, solving crimes together, Mr & Mrs Smith style. I think that would have been a brilliant movie!
I have come to accept that Tamil movies will inevitably revolve around a male hero 90% of the time. In every movie, we naturally look for alpha male heroism, along with cliched punchlines and signature moves.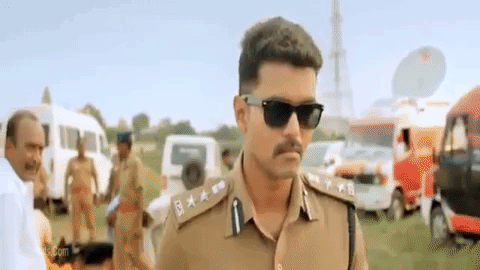 But that doesn't mean that women immediately have to be portrayed as damsels in distress and bimbos who are incapable of taking a stand or having a purpose in life. You can have a macho, building-to-building flying hero with an equally strong and capable partner.
In Black Panther, the focal character is a man, King T'Challa. T'Challa is a charming, heroic king in a sleek high-tech suit who can somersault on top of cars. King T'Challa's love interest is Nakia (played to perfection by Lupita Nyong'o). Nakia isn't some damsel in distress, she is not your typical dainty girl, and she is not dependent on a man to protect her.
But that did not stop Nakia from being a super-cool heroine (I know right, what a shocker). She's a spy and a martial arts expert, and also an activist. Her purpose in life is to make Wakanda a better place. She is headstrong and outspoken. Even though she and T'Challa have feelings for each other, she's not afraid to let herself be heard.
When she saw T'Challa fall to his death, she didn't go home and cry. She took care of his mother and sister and helped them to escape Wakanda. She tried to rally M'Baku and his men to overthrow Erik Killmonger. And she did all these without taking the focus away from King T'Challa, who still had his heroic moments in the movie.
T'Challa's sister Shuri also plays a significant role in the movie, albeit in a supporting role. She is an R&D and tech expert, she designed 3 kick-ass Black Panther suits for her brother, and also fought in the battle at the end of the movie.
TLDR: In order to make the hero look good, you don't have to dumb down the heroine. Give the woman a voice and strong character. A strong, courageous man CAN and SHOULD be able to handle a strong, courageous woman.
2. It's okay for the heroine to be black
Black Panther's heroine is black. And guess what? EVERYBODY LOVES HER, because she is smart, brave, and tenacious.
In Tamil cinema, we glorify dark skin, but only when it concerns the hero. Rajinikanth can be dark, but not Shreya. Vijay can be dark, but not Kajal Agarwal. Vishal can be dark, but not Hansika. See where I'm going with this?
It's all about the colour, colour, colour
Why we're so scared to cast dark-skinned Indian women is beyond me. Is it because directors are afraid that the movie will flop? Can a movie really flop because of the heroine's skin colour? If the answer is yes, then the Indian community has a serious problem.
Why does the heroine's skin colour matter anyway? Give her a strong purpose and personality in the movie, and people won't give a damn about her skin colour.
Here's an interesting conversation I had with a friend recently: I was arguing with him about why I think Amy Jackson doesn't belong in Tamil cinema. This was his reply.
"Who actually cares? We (MEN) go to the cinema for the hero, not the heroine. Most of the time, I don't even know who the heroine is until I watch the movie."
Good answer. Except that that answer can also be used to justify my point. If no one cares about the heroine, then why go through so much trouble to import actresses like Amy Jackson, Tamannah, Hansika, Aditi Rao Hydari, and then get dubbing artists for them? Why not just cast some random girl? No one cares, anyway.
Look, it's very simple. People want positive representations. Women want positive representations. The reason why Black Panther was so highly-anticpicated – and did exceptionally well – is because it annihilates stereotypes. The king is a black guy. The villain is a black guy. The queen is a black woman. The princess is a black girl. The spy is a black girl. There is no colourism at play – because the movie takes place in Wakanda.
But when the movie takes place in Chennai, the hero is a dark-skinned man and the heroine is a white British girl. Come on.
Don't tell me that in Tamil Nadu, where the population is 68 million – you can't find ONE talented Tamil-speaking girl who can act? I call BS.
Black Panther portrays their women as they are – black. Why are Tamil movies so afraid to show the world our dark-skinned women? In fact, Directors are even willing to alter the script to Anglo-Indian (Thanga Magan) and Brahmin girl (Gethu) just to accommodate Amy Jackson in Tamil cinema.
https://varnam.my/2017/337/5-problems-amy-jackson-starring-tamil-movies/
Perhaps they can alter the script to 'born this way' or 'this is what a Tamil girl really looks like' and cast an actual Tamil girl.
3. Women can fight & protect men too 
Yes they can. And this is also another reason why we abso-freaking-lutely looooooove Black Panther.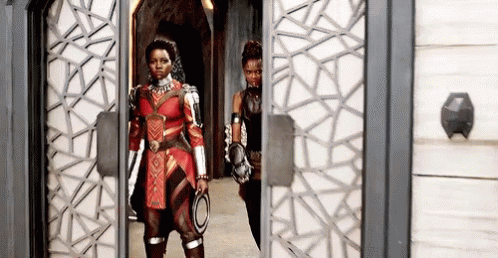 Remember the ending scene where T'Challa is waging war against Killmonger and his army? The other women don't just sit around and watch and cower in fear. T'Challa's sister, Shuri fights alongside him. Nakia fights alongside him. Heck, the entire kings' guard, the Dora Milaje, is made up of women – and they fought courageously in the battle.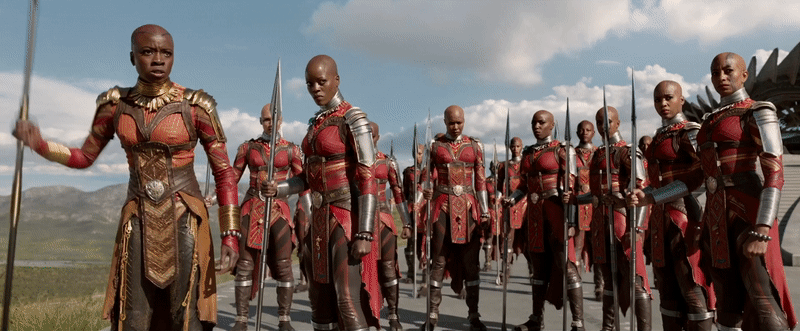 It is very rare that we see this happening in Tamil movies, especially in big hero films. We always see the girl just standing by, hiding behind the hero, letting the man do the all the fighting.
I'm not saying that girls should fight too – but I do think directors should stop portraying women as helpless, fragile beings that cannot protect themselves without a man. Men can protect women, and women can protect men too.
Let's take a look at Baahubali, which is deemed to be the best movie Indian cinema has ever produced. In the first movie, Devasena (played by my hero Anushka) is portrayed as a bold princess who is adept with her sword and arrows. She bravely fought off the bandits, and she even told off the Queen Mother Sivagami in her own royal court. However, we don't see that side of her in the prequel.
The once outspoken and bold princess wants to wait for her son to come rescue her – when she is perfectly capable of doing it herself. Even when Kattappa offered to free her, she refused, saying "No, my son will come and rescue me." Why? Why don't you just save yourself?
Fine. Maybe she was depressed and lost her will to live. But what about after meeting Mahendra? She didn't seem to go back to her old self.
And don't tell me she's old. If the Queen Mother Sivagami can carry a baby and run through a forest with an arrow in her back, and still fight off the guards, I think Devasena can also pick up a sword and fight alongside Mahendra Bahubali when trying to regain Mahishmati. I really wish she had joined her son in the fight towards the end – it would have been a big, big moment.
Avanthika was portrayed as a ruthless warrior for like 10 minutes, and then she forgot all about her mission in life and fell in love with the man who painted on her shoulder. And then she tripped and fell (of course she did) and broke her leg, and her boyfriend came to the rescue. Can we stop making girls trip and fall in Tamil movies please?
I'm glad to see movies like Naachiyaar and Bhaagamathie with strong, female leads making its way to mainstream Tamil cinema, but I hope that women will be given a voice even when it's a big-hero film.
And it's not just me saying this, Jyothika said it too:
Follow us on Instagram, Facebook or Telegram for more updates and breaking news.