The oxygen, nitrogen and carbon dioxide in the air is replaced with amore on 14th of February every year. Sights of red roses, heart shaped chocolates and lovers walking hand-in-hand gets us right in the feels. In some parts of the world, people have given this ancient Pagan festival their own unique twist.
Here are 6 weird Valentine's Day traditions from around the world:
1. Japan: Chocolate for All
The land of the rising Sun has always stood out from the other nations with their fetishes, food and fashion. And, they did not spare Valentine's Day. In Japan, the women are the one to burn holes in their pockets as they have to buy chocolates for the men in their lives.
There are two types of chocolates, 'Giri Choco' (obligation chocolate), and 'Honmei-choco'. 'Giri Choco' is to celebrate platonic love between friends, colleagues, bosses, and close male friends. 'Honmei-choco' is given to a boyfriend, lover, or husband with true love.
2. South Korea: All Black
Red is not the new black in South Korea, black is always black!
Koreans have 3 days to celebrate love (or the lack of it). Similar to Japanese traditions, women spoil the men in their lives with gifts on February 14. A month later, on March 14, it is the men's turn to reciprocate with gifts 3 times the value of the ones they received in February. Then, on April 14, also known as Black Day, singles mourn the fact that they have yet to find love by dressing in black and eating black food.
3. Phillipines: A Million Kisses
Mass marriages on Valentine's Day is nothing out of the norm in the Philippines. In 2004, the government and a commercial dental care brand joined hands to organise a kissing orgy. They hold the world record for most people lip locking simultaneously when over 5000 couples came together to smooch away.
4. Thailand: Divine Love
Finding love is a tough task. So, a little divine intervention could be helpful. In Thailand, the Trimurti Shrine, Bangkok's Shrine of Love, attracts many lovelorn women on Valentine's Day.
The Trimurti represents Hindu deities Lord Bramha, Lord Shiva and Lord Vishnu. Valentine's Day is considered an auspicious day at this temple. Devotees make generous offerings of nine red roses, nine red candles and nine incense sticks in hopes of finding new love or patching up fading romances.
5. Iraqi Kurdistan: The Apple of My Eye
Iraqi Kurds take it back to where it all began, Adam and Eve.
The exchange of apples decorated with cloves is an old Kurdish tradition celebrated on Valentine's Day in both Syria and Iraq. Some even use the apple to pop a very important questions, "Is the apple red or white?". If the answer is red, it indicates a love interest and if the apple is white, it is platonic love.
6. Wales: Spoon-ing
Not the one you are used to, at least. In Wales, intricately carved wooden lovespoon is exchanged as a symbol of love and affection. The carvings also carry their own hidden meanings: a horseshoe for luck, a cross for faith, bells for marriage, hearts for love, a wheel to show support and a lock for security.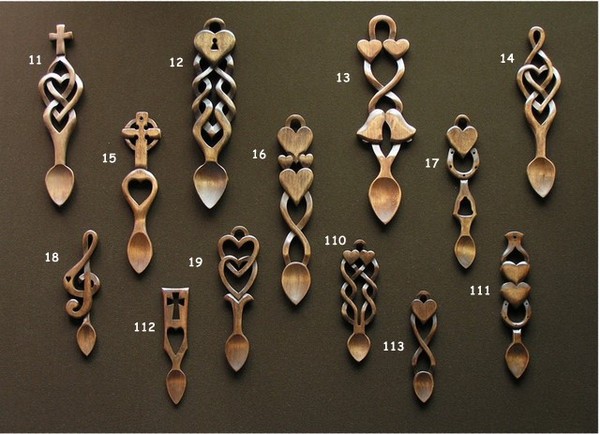 Do you have a peculiar Valentine's Day tradition? Share it with us now.
Follow us on Instagram, Facebook or Telegram for more updates and breaking news.