Thiruvalluvar is a Sangam Age poet and philosopher, he is one of the most prominent intellectual figures in Tamil history. His work has stood the test of time precisely because it has been relevant to the generation that has come after him. Here are 7 quotes that are still significant to our modern age.
English Couplet 75:
Sweetness on earth and rarest bliss above,
These are the fruits of tranquil life of love
We think that we will find peace through material things like earning a lot of money or being incredibly beautiful. But Valluvar states that true peace can only be felt through finding and creating love in our lives. It is unflinching love that helps us attain heaven on earth.
English Couplet 165:
Envy they have within! Enough to seat their fate!
Though foemen fail, envy can ruin consummate. 
You might feel you are behind in your career or in love, but you should never harbour contempt for someone who possesses all that you do not. That feeling of jealousy will grow within and cause nothing but self-destruction. Valluvar believed that envy was enough for an individual to self-destruct. We must learn to be content with ourselves and not have jealousy towards others.
English Couplet 192:
Words without sense, where many wise men hear, to pour
Than deeds to friends ungracious done offendeth more. 
This internet-savvy generation is filled with many who have a million things to say. We should make sure what we say is of use to society, especially because our posts can go viral at any moment. Saying unbeneficial things to thousands on the internet is more cruel than mistreating a dear friend.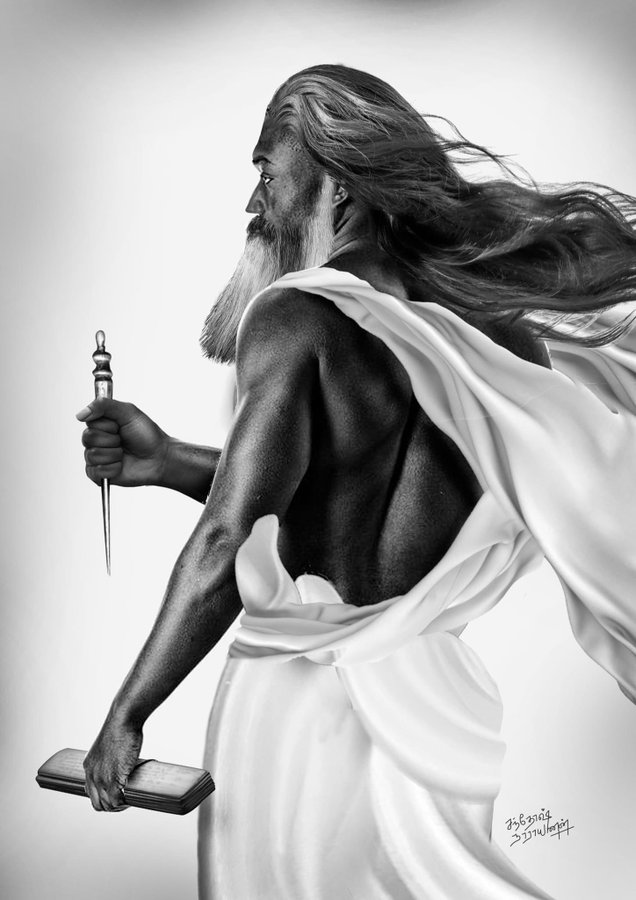 An imaganing of Valluvar from Graphic Designer Santhosh Narayanan Chenthilkumar
English Couplet 784:
Nor for laughter only friendship all the pleasant day,
But for strokes of sharp reproving, when from right you stray.
True friendship is not just about being happy and joyful in one another's presence. A real friend who respects your friendship and your being will always be there to criticise you when you've behaved wrongly.
English Couplet 621:
Smile, with patient, hopeful heart, in troublous hour;
Meet and so vanquish grief; nothing hath equal power.
We live in troubled times, with an ongoing world-wide pandemic, increasing global warming and political instability, and growing social tensions all around us. We must never give into the worrying state thing and instead be brave enough to smile through the troubles until they are gone.
English Couplet 605:
Delay, oblivion, sloth, and sleep: these four
Are pleasure-boat to bear the doomed to ruin's shore.
Carelessness, procrastination, laziness and lethargy are things that will undoubtedly bring great unhappiness to our lives. If we are not productive and active in our lives, these characteristics will take over and ruin our potential.
English Couplet 972:
All men that live are one in circumstances of birth;
Diversities of works give each his special worth.
Living in a multicultural, multi-religious, multiethnic society means that all of us are created equal. No one is higher or lower on the basis of our birth. It is only in one's actions and one's principles that we can see the difference. So we must treat people based on their actions rather than their race, religion, or culture.
Source : 1
Follow us on Instagram, Facebook or Telegram for more updates and breaking news.