And… it has started!
Yesterday, Vijay TV's highly anticipated reality TV show, Bigg Boss Tamil Season 3, kicked off and we saw the FIRST EVER Malaysian contestant. 24-year-old Malaysian singer, host and actor, Mugen Rao, made the cut to be in the line to walk home as champion of Bigg Boss. After attending numerous auditions, Mugen earned the spot in the home and has signed himself off to be locked in a house with strangers.
Bigg Boss Tamil is hosted by Padhmashri Kamal Haasan and the launch even showed some of the artists performing. Mugen made his entrance on stage by performing an original song called Abinaya that was released mid 2018. He was met on stage by Kamal Hassan and Mugen seemed starstruck at the sight of the legendary actor-turned-politician. Kamal Haasan proceeded to present Mugen with the Bigg Boss medal and said, "Deserve it".
Mugen comes from a struggling family who could hardly make ends meet at one time. He was forced to pick up odd jobs such as collecting recyclable wastes to provide for his family. In his introductory montage, Mugen also revealed that he was involved in gangsterism and caused a lot of hurt to his family. At a point in time, Mugen decided to turn on a new leaf and paved his way through the local media industry and soon found himself in bigger films and TV shows. Now, Mugen has a huge following in the local scene and recently won 'Best TV Drama Actor 2019' for 'Nee Yaar' at the Malaysian Indian Cine (MICA) Awards.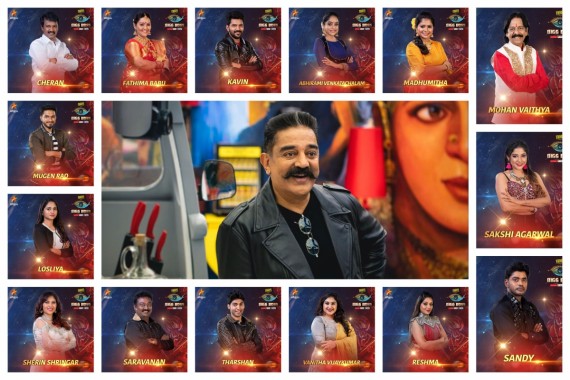 Mugen will be housed under the same roof as the other contestants who are Jangiri Madhumitha, actor-musician Mohan Vaidya, actor Fathima Babu, Nerkonda Paarvai-fame Abhirami Venkatachalam, Alya Manasa, Saravanan Meenakshi-fame Kavin, Srilanka model Losilya, actor Sarvanan, dance master Sandy, Reshma Pasupuleti and actress Sherin.There will be 2 more wild card entries which will be announced later during the show.
Bigg Boss Season 3 will be aired daily at 930PM.
Follow us on Instagram, Facebook or Telegram for more updates and breaking news.