As a huge fan of Priyanka Chopra, this is such a let down.
Priyanka Chopra may have made the most brilliant career transition from Bollywood to Hollywood, married a Jonas brother and spent her time on a luxury yacht all summer long. While her attendance at the beauty event, BeautyCon 2019, was highly anticipated, it did not sit well with some people.
Priyanka was appointed as UNICEF Goodwill Ambassador to promote peace, diplomacy and goodwill. When she was at the main stage at BeautyCon 2019, she spoke about humanity and promoting peace. A Pakistani-American beauty influencer, Ayesha Malik, could not tolerate the hypocrisy and she demanded to speak during the Q&A round.
Boldly, Ayesha called Priyanka a hypocrite for encouraging nuclear war over comments she made amid worsening tensions between India and Pakistan. She said, "It was kind of hard hearing you talk about humanity, because as your neighbour, a Pakistani, I know you're a bit of a hypocrite."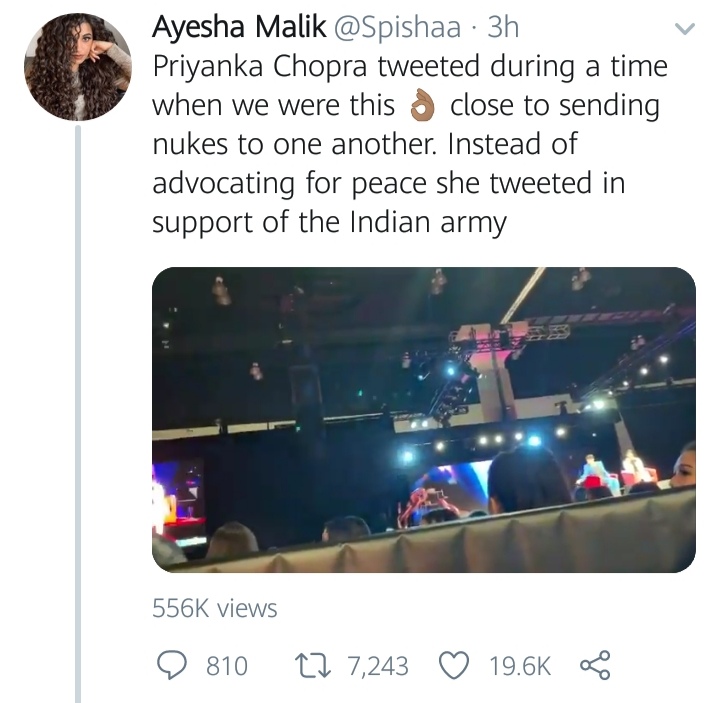 Ayesha added, "You are a Unicef ambassador for peace and you're encouraging nuclear war against Pakistan. There's no winner in this. As a Pakistani, millions of people like me have supported you in your business of Bollywood", before the microphone was grabbed away from her by security.
To the confrontation, Priyanka gave a fluff response with a condescending undertone, "I hear you. Whenever you're done venting. Got it? Done? Okay, cool. War is not something that I'm really fond of, but I am patriotic and I think that all of us have a sort of middle ground that we all have to walk. The way you came at me right now, girl, don't yell. We're all here for love. Don't yell. Don't embarrass yourself. Thank you for your enthusiasm and your question and your voice."
Since the incident, Pakistan's Human Rights Minister Shireen Mazari has urged Unicef to remove Bollywood actress Priyanka Chopra as the UN Goodwill Ambassador for cheering for the Indian Army. In a tweet, she wrote, "@UNICEF needs to remove Priyanka Chopra as its ambassador immediately in the wake of her support for Indian mly (military) and rogue Modi govt. Otherwise it makes a mockery of such appointments. UNICEF should really be more careful on whom it appoints to these honorary positions."
Around the world, Priyanka Chopra is being called out for her hypocritical celebrity activism and blind patriotism.
Follow us on Instagram, Facebook or Telegram for more updates and breaking news.