For the past 4 years, Sid Sriram has been returning to Malaysian shores annually and his fans just can't get enough of his mellifluous vocals. Sid Sriram first performed in Malaysia in 2016 at the AR Rahman Live In KL concert. The heavy downpour and delay in the concert clearly did not dampen the spirits of the audience members of the performers. Sid opened the show with his first Kollywood song from Mani Ratnam's Kadhal 'Adiye' and sang in the rain to a sea of eager fans singing along.
Sid Sriram returned to Kuala Lumpur in January 2017 for his first solo performance in 'Ennodhu Nee Irundhal Sid Sriram's Isai Mazhai Live in KL' along with Keba Jeremiah, Leon James, Sashaa Tirupati, Abhay Jodpukhar, Mk Balaji and A.R Reihana. He sold-out the venue to over 2000 people and delivered a power-packed performance with a combination of his film and solo songs.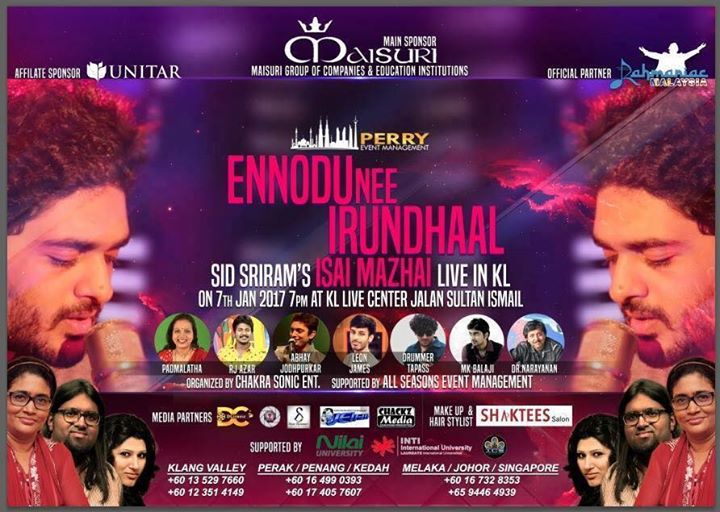 The stage got bigger when Sid Sriram returned later in 2017 under the banner of popular concert organiser, Mojo Projects. Sid Sriram performed to a full venue at the Malaysian Independent Live Fusion Festival (MILFF) to a swaying, flashlight waving audience who sang along to all of his songs during the hour long set. The scene at the StarExpo Centre in KWC Fashion Mall was nothing short of an auditory and visual feast.
2018 was a year of varsity events for Sid Sriram as he performed at an inter-varsity dance competition, Agni KL and a private event at UTAR campus in Kampar.
Last week, Sid Sriram announced that he will be returning to Kuala Lumpur in July 2019 with Woodmark Events for 'Heart & Soul With Sid Sriram – Live In KL'. Woodmark Events opened their online sales on 14 April 2019 and sold 1000 tickets in under 24 hours! They have also completely sold-out the Grand Stand and Silver Category and tickets from the remaining categories are selling fast.
It is clear that even after 5 events in a span of 4 years, Malaysian fans still can't get enough of Sid Sriram.
Follow us on Instagram, Facebook or Telegram for more updates and breaking news.